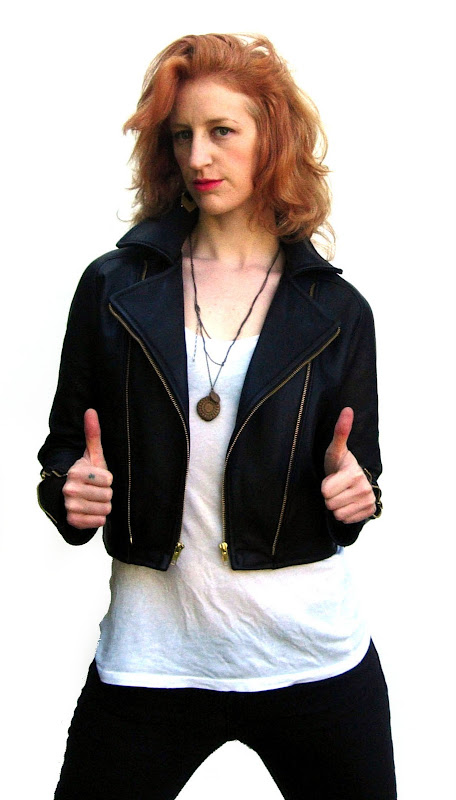 I finally made a new jacket - a replacement for my everyday black staple. This is a project I've been wanting to do for a long time and I'm happy with the end result. I pulled some elements from old jackets I had and did some research to find details I wanted to use.
Inspiration jacket #1
- It started with this army green jacket I picked up at a garage sale for under $5 a few years back. I love the shaped raglan sleeves on this style - it has a sporty 80's/grandpa feel to it. Wilson made some good ones.
Center back V piece looks cool, too.
Shaped raglan sleeve detail with topstitching.
Inspiration jacket #2
- A classic cut motorcycle style jacket. This style has set-in sleeves, which means the body of the jacket is sewn first and then the sleeves are "set in" to the armhole and stitched to the body.
I like all the zipper pocket details but there's definitely a lot going on. Wearing this style makes me feel a little too "fashion-biker" - I wanted mine to be influenced by a classic motorcycle jacket but more simplified.
I drafted a muslin pattern using the shaped raglan sleeves of the first jacket and some details from the second, including zippered gussets on the sleeves and a foldover collar.
Various pattern pieces.
I sewed a rough muslin mock-up to get the overall dimensions and fit right. A lot can be fixed from the mockup but the pattern really needs to be tested in the actual material (leather) in order to make final adjustments, as leather is much more supple than cotton and will have an entirely different weight and stretch.
Cutting out the leather pieces and ready to sew my first sample.
My finished jacket
- I used black cowhide that has a soft hand but sturdy weight, brass zippers, and a black cotton lining with pin dots. The pattern is pretty simple, but the brass zippers lend just the right amount of subtle flash for me.
Why so serious? Because looking into the sun kind of sucks. And putting awkward model shots up feels totally silly but since I made this jacket to fit me, I wanted to show it on myself.
Full Zoolander, I'm just going for it.
See the raglan sleeves just like the green jacket? It's a neat cut.
The one "fancy" thing about this jacket is the double-breasted zippers at the front. You can zip it to the right or left side.
So now all I want to do is make leather jackets. I'm dreaming about it at night. So...that means more to come.