I saw Bobby Liebling and Beyonce in the same week - most opposite possible genres, both amazing performers. My super rad boss lady hooked up this free ticket to see the Golden Goddess in Oakland, I was down for it! Row 7...seat 6. I could see that booty shake up close. Thanks, Molly!
Bitchin' vintage Hot Kiss boots - perfs, studs, and white leather.
Blingy gold boots by L'Autre Chose...I only break them out once in a while as I much prefer my dirty sneaks on a daily basis.
My leather VIP pass holder/easy-access-to-drink-money thing that I made. I'm super into it! Convenient and fancy, with a dash of bling.
B's got a cage skirt on the cover of her album...been seeing these in the blogosphere a lot, as seen below on
Kingdom of Style
, made by
Norwegian Wood
.
B! Sitting on my favorite Mae West couch.
According to Marie Claire magazine, Beyoncé lured Thierry Mugler out of retirement after seeing his work in the "Superheroes" exhibit at the Metropolitan Museum of Art. He designed all of her costumes for the "I Am" tour and acts as her general creative adviser.
One of my favorite outfits of the show...leopard 6-pack leotard thing with flashing lights and robotic boobs.
Vintage Mugler
Here's another good one - the Golden Goddess in a sparkly gold number featuring a giant bow at the back. Specifically meant to enhance the shaking of the tail-feather. It's a BABs (if you work with me, you know what this means).
If there was any possible way you were bored at this point in the show, then behold the most elaborate moment of all...Beyonce rising from the floor up to the ceiling in a 30+ foot gleaming golden gown, which dropped to the floor in a shimmery puddle as she began to fly across the arena.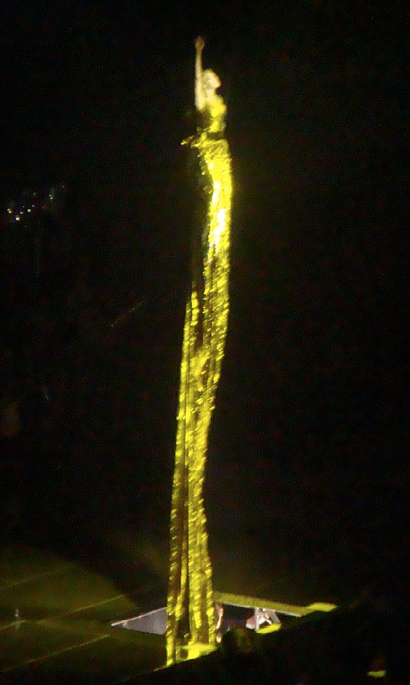 Seriously, it was nuts.